That's All Folks!, watercolor, pen and ink on paper, 22" x 26" framed, $2,000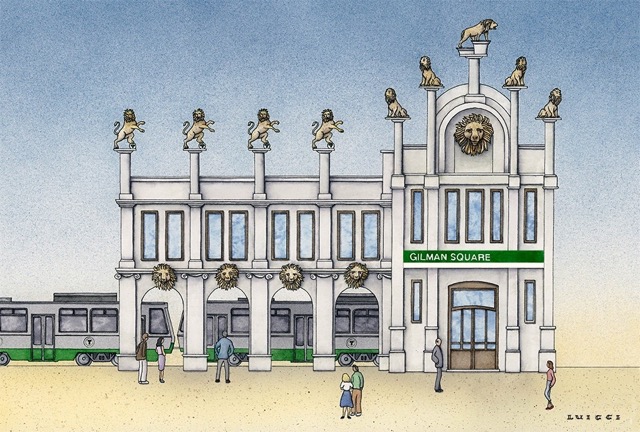 A Modest Proposal for the Gilman Square T Stop, watercolor, pen and ink, 16" x 20" framed, $650. Also available as unframed archival digital print, 11" x 14", $130
I thought you knew…, watercolor, pen and ink, cut paper, 22" x 21" framed, $875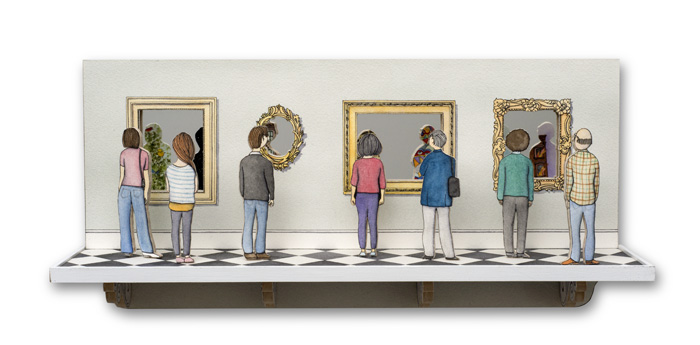 Gallery, watercolor, pen and ink on paper, mirrors, mounted on wood, 7" x 15" x 3 1/2", sold
Self Portrait, watercolor, pen and ink on paper, mirrors, mounted on wood, 8" x 16" x 2", $750
Bureaucratic Bicycle, watercolor, pen and ink, 13" x 25" framed, $575
Commuter's Lament, digital print of original watercolor illustration, 15" x 12" framed, $235, 14" x 11" unframed, $130
All Clear Ahead! (9/50), digital print of original watercolor illustration, 11" x 14", $130
Birdwatchers II, watercolor on paper, 6 panels in a 13" x 17" frame, $750, archival digital print available, 11" x 14", $130
ROYGBIV, watercolor, pen, ink, and colored
pencil on paper, 10" x 13" framed, $250
The Trump Transition (Fasten Your Seat Belts), watercolor, pen and ink, cut paper, 17" x 13" framed, $400, also available as archival print, 14" x 11", $130
Big Wig (2/50), digital print of original watercolor illustration, 9" x 12", $85

Keep the Home Fires Burning, watercolor, pen, and ink on paper in an antique frame, 21" x 11", sold
The Affordable House (3/50), digital print of original watercolor illustration, 12" x 9", $85
Problem? What Problem? (15/50), digital print of original watercolor illustration, 11" x 14", $130
Man Discovers Electricity, watercolor on paper with cutout, 16" x 20" framed, archival digital print available, 11" x 14", $130
 
Charles Nestle's Color Cannon, digital print of original watercolor illustration on paper, 18" x 24" framed, $400, also available 11" x 14" framed, $175
The Property Owners, digital print of original watercolor illustration on paper, 9" x 12", $85
The Roof Top Playgrounds of Beacon Hill, watercolor on paper, 12" x 18", archival digital print also available
They Never Met (Undersea) 4/50, archival digital print of original watercolor, 15" x 12" framed
Seeing Glass, watercolor, ink on paper, cut paper, mirror, 22" x 31" framed
Life Saving Devices For Persons Who Prefer Not To Raise Their Voices In An Unseemly Manner, watercolor on paper, triptych, 6¾" x 3" panels
 
They Never Met, watercolor on paper, 21" x 19" framed
Citizens With Big Ideas, watercolor on paper, 15½" x 19" framed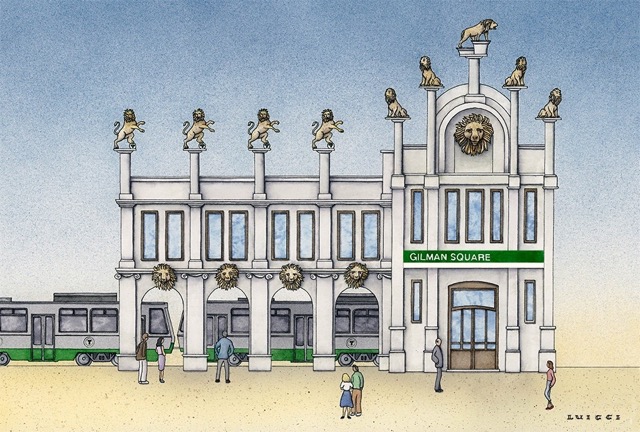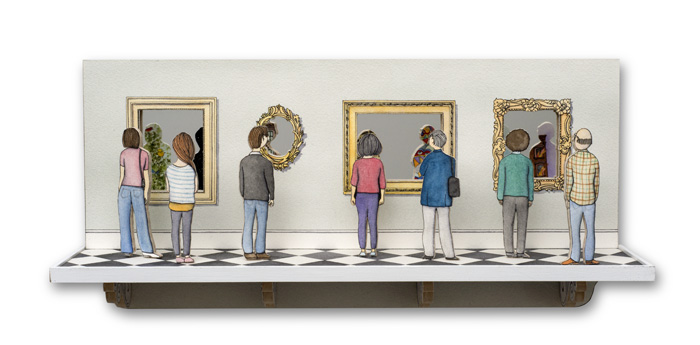 Mark Luiggi is a Massachusetts artist whose paintings and clocks appear in private collections throughout New England including those of André Previn and other notable collectors. He received a Bachelor of Fine Arts in Painting from Ithaca College, as well as a Bachelor of Fine Arts in Communication Design from Rochester Institute of Technology. In addition to years as a graphic designer and commercial illustrator, Luiggi has shown in numerous exhibitions in New England during his thirty-plus year career. He was a member/exhibitor at The Society For Arts and Crafts in Boston (1993-1999) and has shown his work in commercial galleries from Maine to Cape Cod.

In addition to a successful line of giclée prints, Luiggi continues to create original work and recently participated in Steampunk Springfield-Reimagining An Industrial City at The Springfield Museums in Springfield, Massachusetts.

In 2015, Luiggi completed two illustrated humor books: Thinking Inside The Box, a collection of cartoons, and John Dudley's Undoubtedly Useful Products, an imaginary catalogue of unusual "products" circa 1925.