Ernest #c340, Castillo-class astrobot, re-purposed bicycle parts, threaded rod, gear housing machine part, carriage bolt, nuts, washers, rivets, copper, bronze, 15" x 7" x 3", $450
Apollo #323, Mercury-class astrobot, re-purposed bicycle parts, bearing rings, threaded rod, paper-shredder rollers, dulled thresher blades, rivets, washers, bolts, nut, copper, bronze, 19" x 8" x 4", sold
Eris, Jupiter-class astrobot, bicycle parts, Millbury factory loom gears, lathe chuck, drill press cover, crankshaft, industrial auger bits, machinist parts, typewriter, hardware, bronze, copper, 46″ x 25″ x 13″, $6,000
Kit #321, Neutrino-class astrobot, bicycle parts, bolts, threaded pipe, washers, rivets, screw, wing nut, copper, bronze, 4" x 2 ½" x 2 ½", sold
Io #320, Neutrino-class astrobot, steel bushing, roto-mill tooth, bicycle parts, bolts, knurling nut, bronze, 3 ½" x 2 ½" x 2", sold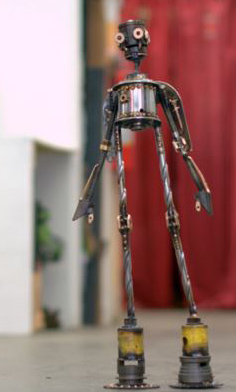 Lars #237, Mercury-class astrobot, bicycle parts, drill bits, hole saws, worm gear, nails, nuts, bolt, copper flashing, bronze and steel, 21 1/2" x 8 1/2" x 3 1/2", sold
Stormy #324, Mercury-class astrobot, re-purposed bicycle parts, motorcycle camshafts, bearing race, lag bolt, trailer pin, rivets, nuts, bolts, washers, copper, bronze, 19½" x 11" x 6", sold
Sonja #319, Mercury-class astrobot, re-purposed bicycle parts, drill bits, pillow blocks, flooring nails, washers, bolts, nut, copper, bronze, 21" x 12" x 7", sold
Bibi #322, Ion-class astrobot, bicycle parts, socket heads, punch, reamer, rivets, nuts, acorn nuts, bolts, rod clamp, flooring nails, copper, bronze, 15" x 8" x 3", sold
Ward #C295, Castillo-class astrobot, bicycle parts, stainless steel valves, screws, piston valves, pipe caps, washers, bolts, nuts, wing nuts, copper, bronze, stainless steel, 14" x 5" x 3", sold
Danaan #269, Castillo-class astrobot,bicycle parts, piston valves, hole saws, copper, bronze, enamel, 15½" x 7" x 3", sold
Allen #265, Castillo-class astrobot, bicycle parts, piston valves, copper, bronze, enamel, 17½" x 6½" x 3½″, sold
Lois #C296, Castillo-class astrobot, bicycle parts, gears, bearing, wing nuts, copper, bronze, stainless steel, 16" x 5" x 4 1/2", sold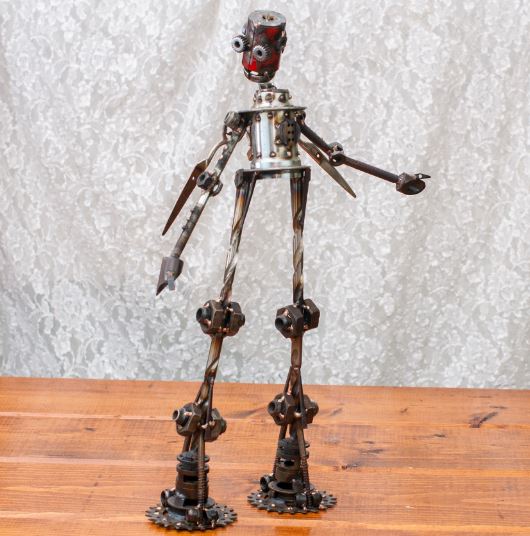 Bryce #286, Mercury-class astrobot, bicycle parts, drill bits, screws, nails, machine parts, nuts, stainless steel, bronze, copper, 21" x 13" x 4", sold
Phoebe #284, Jupiter-class astrobot, bicycle parts, gears, drill bits, screws, lag bolts, hardware, stainless steel, bronze, copper, 32" x 18" x 14", sold
Gloria #M295, Mercury class astrobot: bicycle parts. blades, washers, collets, pipe flanges, nuts, drill bits, nails, bolts, copper, bronze, stainless steel, 21" x 14" x 7", sold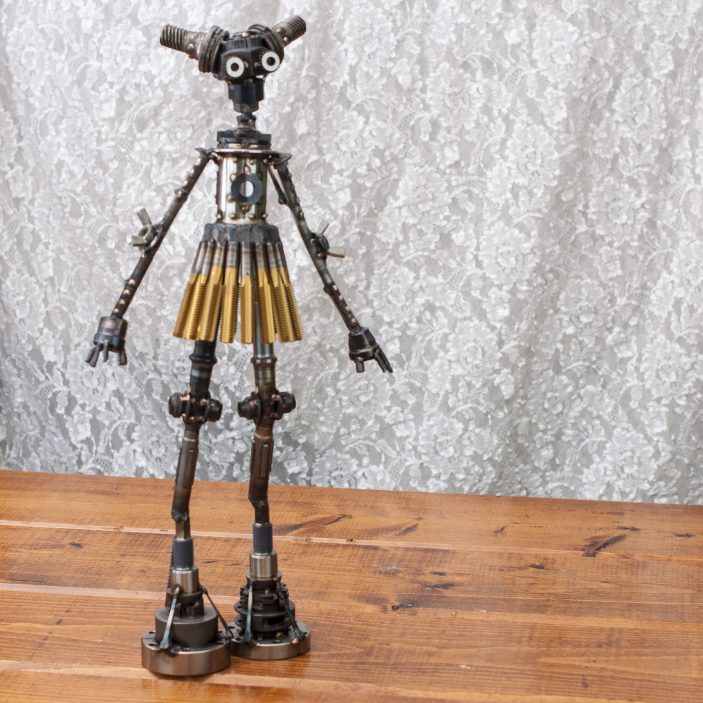 Margot #279, Mercury-class astrobot, bicycle parts, titanium nitride taps, machine parts, flooring nails, stainless steel, bronze, copper, 19" x 10" x 4", sold
Griffin, bicycle parts, shears, piano screws, nut, bolt, washer, copper, bronze, steel, 20¾" x 8½" x 3½", sold
Kyler #266, Castillo-class astrobot, bicycle parts, 21" x 7 1/2" x 5", sold
Tate #268, Castillo-class astrobot,bicycle parts, tool pieces, wing nuts, bolts, nut, copper, bronze, enamel, 18" x 10" x 3″, sold
Nolan #260, bicycle parts, sets of pillow blocks, drill bits, wing nuts, precision gear, copper, bronze, 22" x 7" x 3½″, sold
Nero #267, thirty-three bicycle parts, washers, socket ends, wing nuts, bolts, nuts, copper, bronze, enamel, 23" x 17" x 4", sold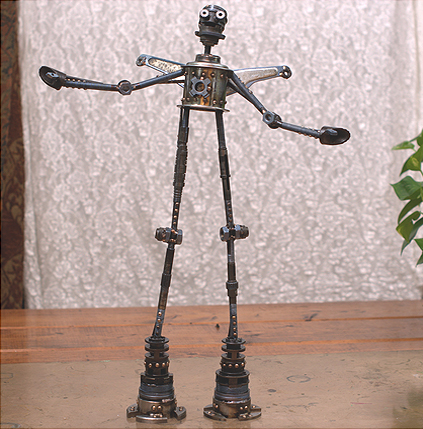 Nero #267 (alternate view), thirty-three bicycle parts, washers, socket ends, wing nuts, bolts, nuts, copper, bronze, enamel, 23" x 17" x 4", sold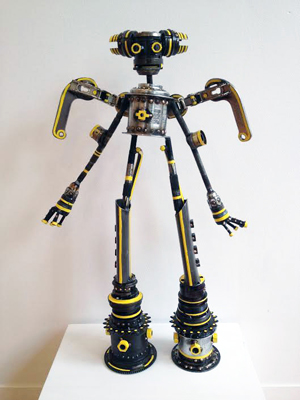 Mace (140402 M226), repurposed bicycle parts, moveable wings, enamel, 21" x 14" x 4", sold
Remi, Castillo-class astrobot #234, repurposed bicycle parts,disc lock, wing nuts, rotating head, red racing stripes, 14½" x 8½" x 3", sold
Grace, Mercury Class Astrobot, antique bicycle parts, 18 taps, drill bits, gold racing stripes, 22" x 7" x 4", sold
Karla, Castillo Class, bicycle parts, square nuts, big bolts, white racing stripes, 16" x 14" x 4", sold
OMG Phony, Albino Schmole, Pegasus Manx, bicycle chain, largest is 5" x 4" x 1½", $40-50
Missing Link series: Crimson Shamel, bicycle chain, 5" x 4" x 1½", $50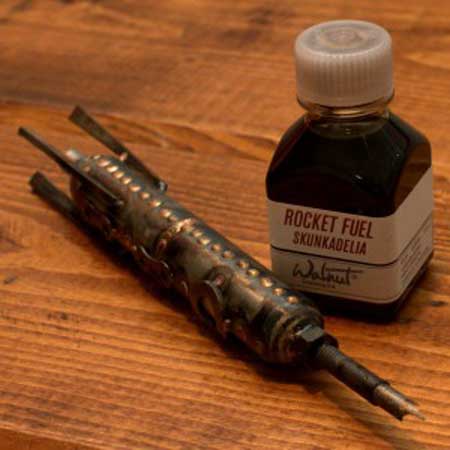 Asimov Class Rocketship Stylus and Rocket Fuel, Co2 canisters and flooring nails, $135
Tom Thumb Class Rockets, CO2 cartridges, metal hardware, left 7" x 3" x 3", right 6" x 2" x 2", $75-$85 each
Maribelle, Mercury Class Astrobot: 19 drill taps, brass oxy-acetylene, miscellaneous bike parts, articulated grease port belly button, big bolt shoes, 22" x 12" x 7", sold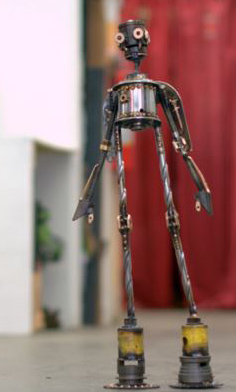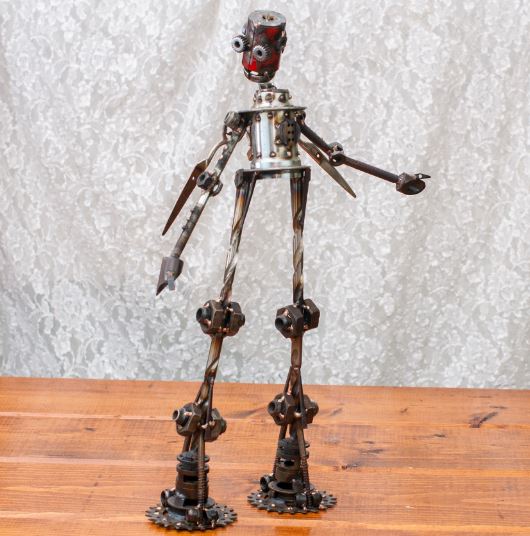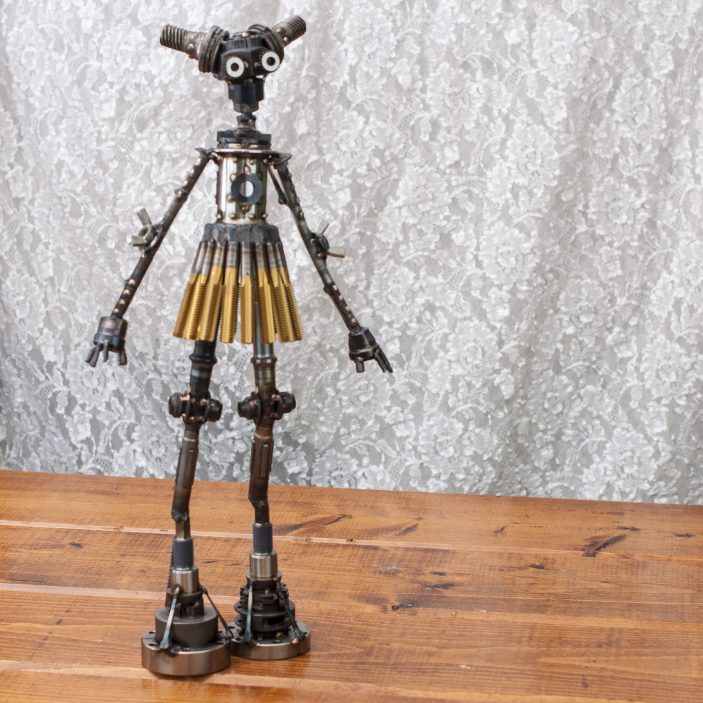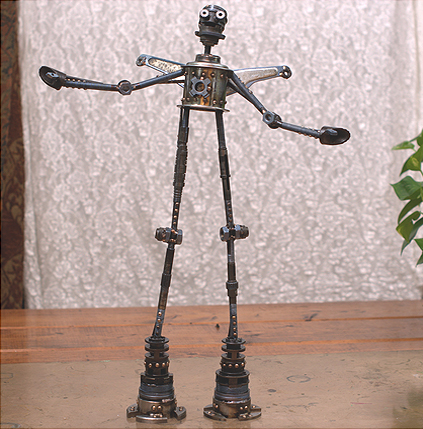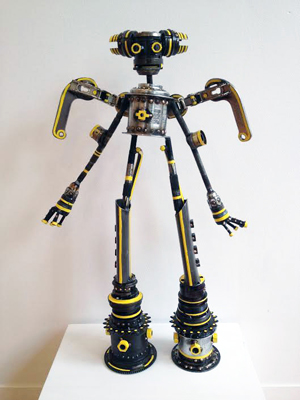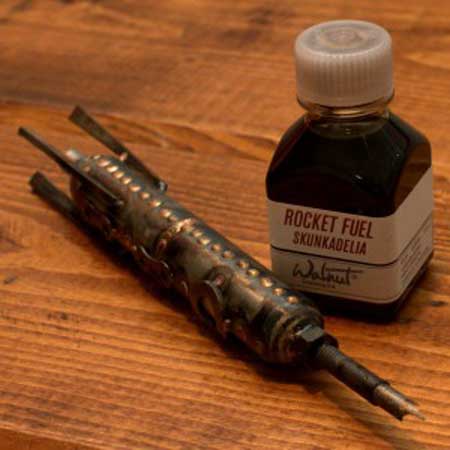 Skunk lives, works, and plays in Somerville, Massachusetts.


Skunk is on a relentless mission to transmogrify and personify spark plugs, circuit breaker boxes, reamer blades, typewriters, and the like; helping the little creatures we inherently see in objects transcend their original purpose. Saw blades are reinvented into angelic wings, tin cans devolve into rose pedals, and a broken clarinet gets a second life as a pirate blunderbuss. No outdated or discarded mechanical devices are safe from joining the parade of fantastic creatures, mighty rayguns, and emotional robots, some of which tip the scales at over 300 pounds.

For Skunk there is no greater thrill than trying to create something beautiful with a metal-melting lightening bolt.