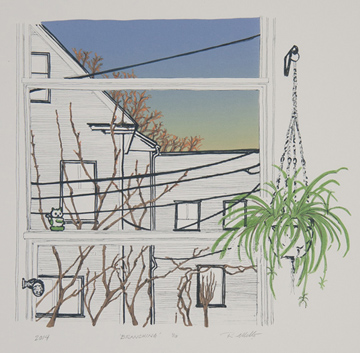 Rachel Mello received her BFA and Bachelor of Architecture from the Rhode Island School of Design and holds an MFA from Brandeis University. She currently lives in Somerville, Massachusetts.
I overlay multiple places or images in the same physical space to reflect an experience I believe many of us share: a constant overlaying of our internal landscapes onto the external world. Our minds wander, incorporating other times and places into any current moment. Through my cut-silhouette grounds and their painted surface imagery I'm working on pulling these personal landscapes out to the surface and placing the act of looking into the present by incorporating the shadows cast on the gallery wall into the piece being viewed. I re-examine the same imagery through printmaking and collage as well, expressing and exploring cityscapes through new vantage points, tangible or emotional, that the various media offer.

I hand-cut and painstakingly reassemble my wood-block prints into collages using patterns I design from vintage wallpapers, oriental rugs, pressed-tin ceilings and so on. This sort of ornamentation makes a connection for me between the built structures and the generations of individuals who have personalized them and humanized the them for generations. The layers in my work remind me of the slow, layered evolution that I love so much in old cities.

While I have a deep love for nature, my home has always been in the city. I am deeply touched by communities of people, by the choices we make to find ways of living with and near strangers, and how we connect to and separate ourselves from our neighbors, the natural world, and ourselves.