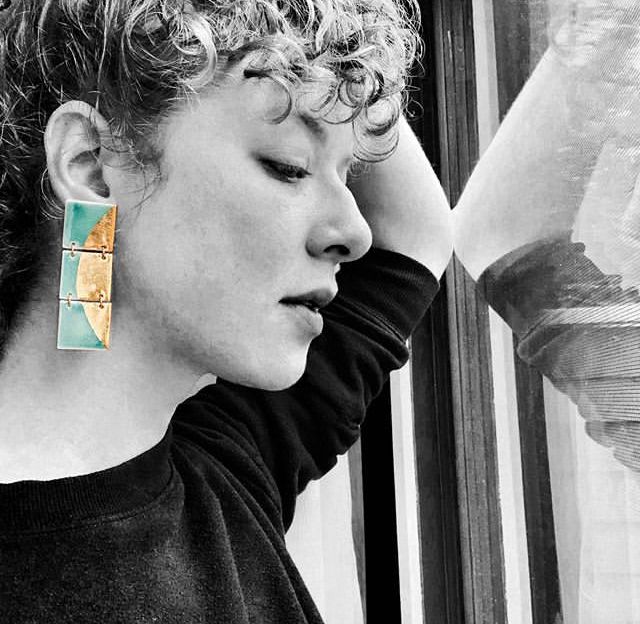 Turquoise triple-tiered porcelain square studs with gold luster half moon design, $175
Wide gold triangle necklace, porcelain with black and celadon glaze, 14K gold filled chain, $85
Celadon wide triangle necklace, porcelain with celadon glaze and gold luster stripes, 14K gold filled chain, $85
Celadon narrow triangle necklace, porcelain with celadon glaze and gold luster, 14K gold filled chain, $60
White wide triangle necklace, porcelain with mottled blue and gold luster design, 14K gold filled chain, $85
White narrow triangle necklace, porcelain with gold luster, 14K gold filled chain, $60
Two-tiered hinged necklace, white porcelain over gold froth, 14K gold filled chain, $110
Two-tiered hinged necklace, porcelain with metallic black glaze over gold luster, 14K gold filled chain, $110
Midnight blue narrow triangle necklace, porcelain with midnight blue glaze and gold luster, 14K gold filled chain, $60
Assorted triangle pendant necklaces, glazed porcelain pendant with gold luster, 14K gold filled chain, $50-$60
Two-tiered hanging stud earrings, porcelain with metallic black glaze over gold luster, 14k gold filled post, $85
Large two-tiered hinged earrings, porcelain with celadon and aquamarine glaze, 14k gold filled hardware and handmade ear-wire, $110
Large open triangle earrings, porcelain with mottled turquoise glaze, 14k gold filled chain and handmade ear wire
Large two-tiered hinged earrings, glazed porcelain over crackled gold, 14k gold filled hardware and handmade ear-wire
Three-tiered hinged earrings, porcelain with celadon glaze over crackled gold over aquamarine, 14k gold hardware with handmade ear-wire
Large open triangle earrings, porcelain with aquamarine and 14k gold filled chain and handmade earwire
Large open triangle earrings, porcelain with aquamarine glaze, 14k gold chain with handmade ear-wire
Two-tiered hanging stud earrings, porcelain with dark turquoise glaze and gold luster accent, 14k gold filled post
Large open triangle earrings, porcelain with metallic black glaze and gold luster accents, 14k gold filled chain and handmade ear-wire, sold
Extra-large two-tiered hinged earrings, bare white porcelain over gold luster, 14k gold filled hardware with handmade ear-wire, sold
Narrow two-tiered hinged earrings, porcelain with celadon over crackled gold, 14k gold filled hardware and handmade ear-wire, sold
Two-tiered hanging stud earrings, porcelain with celadon glaze over gold luster, 14k gold filled post, sold
Large two-tiered hinged earrings, porcelain with aquamarine glaze over crackled gold, 14k gold filled hardware with handmade ear-wire, sold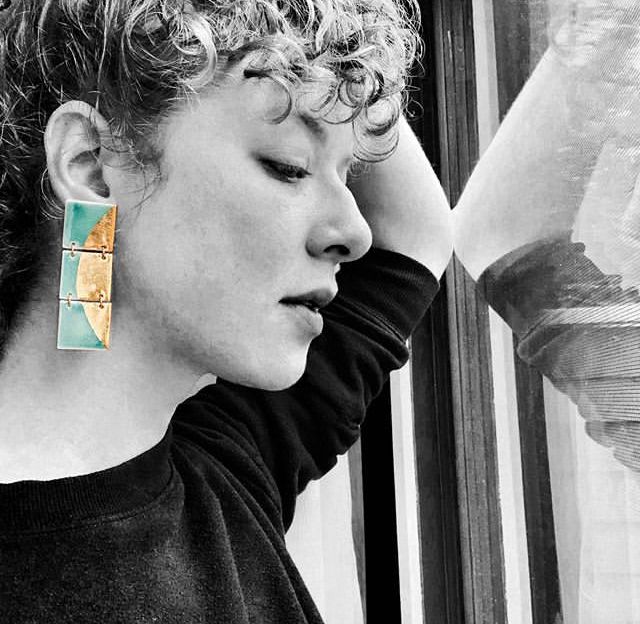 Maeve Mueller studied at the School at the Art Institute of Chicago, where she concentrated in ceramics and light metals. A New England native originally hailing from Salem, New Hampshire, Mueller now lives in Cambridge, Massachusetts.

The gallery is also pleased to carry Mueller's pottery, which can be found here.
I first sat down at a potter's wheel in Somerville, Massachusetts when I was 11. Eight years later, I left Boston to study art in Chicago, the city where my great aunt once lived and painted. I asked myself a lot of questions there, and ceramics became my language for fleshing out the answers. Clay grounded me.
The more like meditation my art practice is, the happier I am. If I'm going to dedicate my life to making objects (and I am) they should be honest and precious and created for the purpose of being intimately experienced by others.