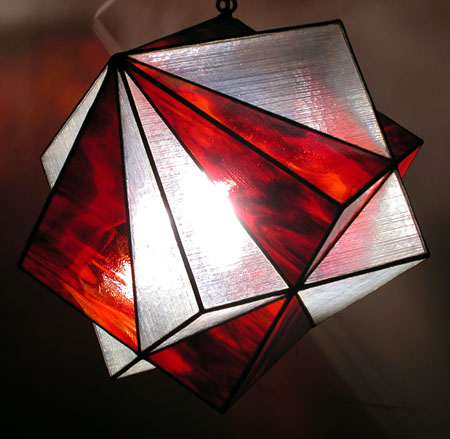 "I was born, raised and educated in Germany. After finding myself morally incapable of designing new weapons for the military, I became a master tailor, fine woodworker and fiber artist. I joined the Camphill community movement in Germany and England, where I worked as the master of a weaving workshop. In the US, I started out as a tailor. I progressed to class teaching in a Waldorf School. I now own and run a stained glass studio where I teach students glass work in combination with math. My itinerant life as a math teacher takes me all over the country as do my Artist-in-Residencies.
Come to think about it, I have always combined math and art in some way! The strongest expressions have been in paper, and still more so, in stained glass. I create sculptural lighting, lighted sculptures, sculptures, windows, time pieces, home and office accessories and combinations of all these for all spaces. My lights include the latest LED technology and are therefore very economical and safe while giving the highest quality illumination."
Hans Schepker lives and works at Pear Tree Studio in Harrisville, New Hampshire. He is a member of the League of New Hampshire Craftsmen, a roster artist for the New Hampshire State Council on the Arts, a member of the Mathematical Association of America, and a member of the National Council of Teachers of Mathematics.