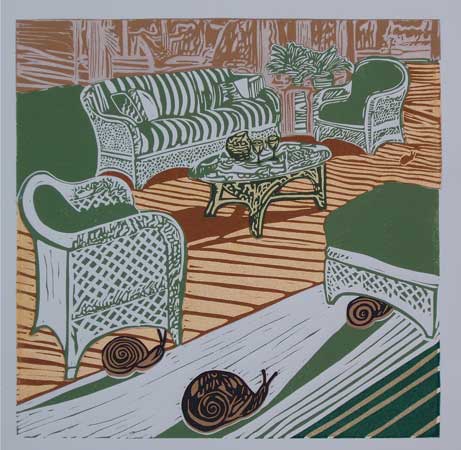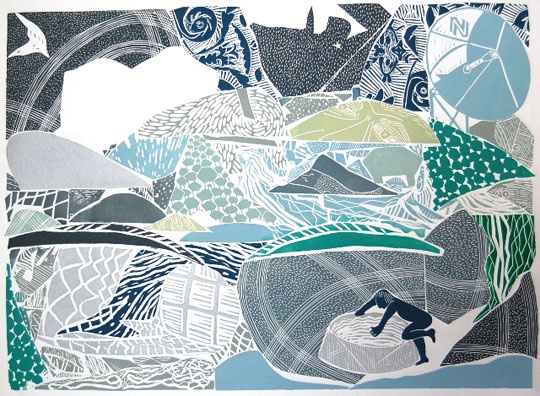 Ellen Shattuck Pierce grew up in Rutland, Vermont. She graduated from the University of Massachusetts with a BA in Art and Women's Studies and received an MFA from York University in Toronto. She currenly lives in Roxbury, Massachusetts.
The crazy-making of living with and raising small children is the subject of my work. I work on a small scale at the kitchen table. My boys' nap-time is my time to fantasize and to enter a parenting fantasy-land, where I am free to be spiteful, self-pitying, violent and selfish: emotions that generally run contrary to motherhood. The obsessive thinking regarding a newborn's eating, sleeping and breathing, and the repetition of daily routine is represented by intricate patterning and compositions that have little breathing room. Figures, who are portrayed as overwhelmed or vengeful in the "loving" act of preparing food, battle with human-sized kitchen utensils. These representations are at odds with the generally recognized ideals of 21st Century American homemaking.
I am drawn to the modest and traditional medium of printmaking but work to push beyond its formal boundaries. Relief carvings are the foundation of my custom wallpaper. My design is based on 18th Century toile textiles which are the perfect world to express the duality of domesticity. The beatific scenes of leisure, wealth and endless happy days speak to the expectation of mothers today, who are often told how quickly their children will grow up, and commanded by strangers to enjoy them. In my wallpaper, the pleasant garden scenes have been replaced with work: laundry, nursing, expressing breastmilk, dishes, feeding, and cooking. These images repeat themselves and, in doing so, convey the never-ending pattern of childcare.
I discovered that contact paper (the sticky paper in my kitchen drawers) was a great material for making stencils. The material comes in a fake blonde wood which is curiously close to a flesh tone and, when anthropomorphized, further propagates my fear that I am becoming my kitchen.